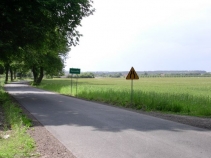 Tym razem szlak poprowadzi Was w pagórkowate tereny Pojezierza Krajeńskiego. To długa wyprawa, dlatego zwracam uwagę, żeby nie zapomnieć o energetycznym jedzonku i piciu. Podczas wycieczki odwiedzimy Nakło i Mroczę, zobaczymy śluzę Józefinka na Kanale Bydgoskim i będziemy mogli powspinać się na polodowcowe pagórki w okolicach Wąwelna. Szczególną atrakcją na trasie jest wieś Byszewo, położona nad pięknymi jeziorami w tzw. Rynnie Byszewskiej. Uwaga, na tej trasie szczególnie może dokuczać wiaterek!
Klasyk Pomorski to pętla prowadząca w całości po asfaltowych drogach na pn. zach. od Bydgoszczy. Jest to bez wątpienia ciężka próba, głównie ze względu na dystans, bo przecież blisko 100 kilometrów to już naprawdę poważna odległość. Na trasie mamy całą masę sielskich, wiejskich krajobrazów, które wyglądają pięknie o każdej porze roku.

Z geograficznego punktu widzenia trasa wiedzie centralną częścią Pradoliny Toruńsko-Eberzwaldzkiej, w bliskim sąsiedztwie Kanału Bydgoskiego, a następnie wyprowadza nas w południowe tereny Pojezierza Krajeńskiego. Pagórkowaty teren i dużo jezior ukrytych w głębokich rynnach polodowcowych to kolejna cecha charakterystyczna tej części trasy.
Kanał Bydgoski
Początkowa część trasy prowadzi równolegle do Kanału Bydgoskiego. Nie biegnie ona co prawda nad samym Kanałem, ale na niektórych odcinkach zbliża się do niego na dość bliską odległość.

Kanał Bydgoski to historyczna budowla zaprojektowana i wzniesiona w latach 1772-1775 z inicjatywy króla Pruskiego Fryderyka II. Kanał łączy dorzecza dwóch największych polskich rzek - Wisły i Odry, co sprawia, że jest niezwykle istotnym elementem w systemie żeglugi śródlądowej naszego kraju. Wartość tą potwierdza fakt, że Kanał Bydgoski jest częścią Międzynarodowej Drogi Wodnej E-70, łączącej Europę Zachodnią z portami w Kaliningradzie.
Nakło nad Notecią
Miasto liczące blisko 20 tys. mieszkańców, jest siedzibą władz powiatowych. Jego historia sięga już średniowiecza. Choć w samym mieście nie odnajdziemy zabytków z tamtych czasów to jednak warto wiedzieć, że prawo budowania miasta przy grodzie nadał już w 1299 r.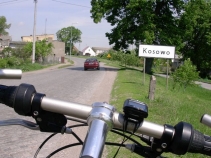 Władysław Łokietek. W latach 70-tych XVIII wieku zaczęto tu budować Kanał Bydgoski, a II połowa XIX wieku przyniosła linię kolejową z Berlina do Bydgoszczy, a także pierwsze zakłady przemysłowe (między innymi cukrownię).
Mrocza
Niewielkie miasteczko położone 15 km na północ od Nakła może zaciekawić specyficznym układem zabudowy. Mimo, że zamieszkuje je niewiele ponad 4 tys. mieszkańców to jednak jest dość rozległe. Ponadto w centrum zachował się średniowieczny układ architektoniczny, który tworzą kamieniczki z końca XVIII, XIX i początku XX wieku.
Byszewo i Rynna Byszewska
Pojezierze Krajeńskie odznacza się bogactwem i różnorodnością form rzeźby polodowcowej. Oprócz pagórków zwanych fachowo ozami, kemami i drumlinami, oraz wałów morenowych, istotną formą krajobrazu, która przecina ten region jest Rynna Byszewska. Rynna ta ciągnie się przez ponad 30 km i ma kształt wąskiej, podłużnej rysy wcinającej się łukiem w Wysoczyznę Krajeńską. W najgłębszych miejscach rynny utworzyły się jeziora. W rynnie, nad Jeziorem Długim leży między innymi wieś Byszewo. Wieś, o której wspominały już księgi z czasów Władysława Łokietka, prawdopodobnie istnieje już od schyłku XII wieku, a swe początki związane były z nadaniem tej ziemi cystersom. Znajduje się tutaj sanktuarium Najświętszej Marii Panny Królowej Krajny, które niegdyś było właśnie opactwem cysterskim.