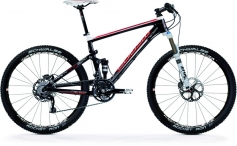 Linia rowerów Merida Ninety-Nine jest przeznaczona do jazdy sportowej typu XC/Maraton. Ninety-Nine zastąpił w 2012 roku linię Ninety-Six, aczkolwiek w Polsce jeszcze w 2012 roku Merida Polska oficjalnie oferowała równolegle te dwa modele.
Nazwa Ninety-Nine odnosi się do skoku zawieszenia wynoszącego w przypadku tyłu 99 mm. Przedni widelec posiada 100 mm ugięcia. Rower ten jest wyczynowym modelem do uprawiania wyścigów typu XC (Cross-Country) oraz maratonów rowerowych. Tego modelu używają zawodnicy Merida Team w Pucharze Świata.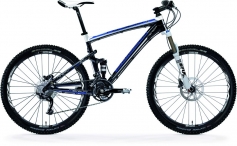 W stosunku do modelu Ninety-Six zmieniono położenie tłumika - w starym modelu znajdował się on pod górna rura, a w nowym powędrował obok rury posiodłowej. Wyznacznikiem całej linii Ninety-Nin jest napęd 20 rzędowy - realizowany albo za pomocą Shimano XT, albo SRAM X.0. Tylnym damper to DT Swiss M210 38 ABS z blokada skoku (manetka na kierownicy). Najwyższy model - Ninety-Nine CF 3000-D posiada ramę z karbonu, a pozostałe z hydroformowanego aluminium.
W Polsce sa dostępne trzy modele linii Ninety-Nine:
Ninety-Nine XT-D - 8.900 zł
Ninety-Nine 2000-D - 11.200 zł
Ninety-Nine CF 3000-D
2021-03-28 16:50 anonim
|
Medication information sheet. Long-Term Effects.
<a href="https://pregabalininfo.top">can i order cheap pregabalin online</a> in USA
Some what you want to know about medicament. Read information now.
2021-03-29 11:38 anonim
|
Medicines information sheet. Generic Name.
<a href="https://lyricafor.top">order generic pregabalin without dr prescription</a> in the USA
Best about meds. Get information here.

http://onecathome.ecec-shop.com/products/Demo-%E7%94%A2%E5%93%81.html#reviews All news about medicine. http://zlgn.ru/catalog/show/5469/?id=114420#comment_114420 All about medicines. http://otcemd.ks.ua/index.php/forum/razdel-proshvidky/61064-best-information-about-medication.html Best information about medication. f1_697c
2021-03-29 14:09 anonim
|
site:teacherspayteachers.com/products essay service <a href="http://writemypaperkfd.com">write my paper for cheap</a> best essay writing service cost
2021-03-29 14:55 anonim
|
the value of community service essay <a href="http://writemypaperkfd.com">write me a paper</a> christian service essay
2021-03-29 23:23 anonim
|
12 simple exercises to develop "phenomenal memory":

1. Improve the memorization process

When memorizing something, you need to think about the action, draw parallels with your life. Let's just say, the more associations you make, the more you will be able to remember what you want.

2. Try to remember yourself

There are times when you forgot your partner's phone number, or the name and patronymic of a person with whom you have an important meeting, etc. Do not rush to open your notebook just to read the necessary information. Try to remember it yourself. This information is already "on the shelf in your head", you just have to find it.

3. Create similar looks

If you need to remember something important, try to create an image in your mind that is associated with what you need to remember. It will be easier for the brain to do this.

4. Speak the information received

When you want to remember important information, try retelling it, or explaining it to another person. The memorization process becomes better when you speak the information received.

5. Do arithmetic
how to write a good conclusion paragraph for an argumentative essay <a href="https://essaywriterserv.net/">custom essays writing</a> how to write a good essay for university application

When you have nothing to keep yourself busy in boring and long lines, try to start solving very simple arithmetic problems in your head. For example, multiply the number of legs of those red chairs by the number of flowerpots on the windowsill. Or count the sum of numbers on the numbers of passing cars ... This practice is actually an excellent memory training. 6. Remember what happened to you during the day

Before going to bed, after the day, scroll through all its details in your head. What did you do throughout the day, what would you do to improve some points. Think back to your day. From now until awakening. Believe me, this is not an easy task! Ask the question: "Which decision I made today was the most effective?"

7. Read more books!

What could be better than spending your free time reading an interesting and useful book? When reading a book, the brain strains to memorize the details. In addition, you turn on your imagination and begin to visualize everything that you read about. This is great for training the brain.

8. Study verses and text passages

At school we were asked to learn poems for a reason. Memorizing rhymed verses and non-rhymed passages of text helps develop memory. So learn the verses. Try to choose those pieces that you really like 9. Don't try to cram!

Remember how at school / university we could memorize the information we needed to get a good grade? Forget about it. This technique does not help develop memory. Dull cramming is ineffective. It tires the brain, and it quickly stops responding to the information it receives. Better ponder on what you read. You need to not only learn, but also understand what you are reading.
how to write a introduction paragraph for an argumentative essay <a href="https://essaywriterserv.net/">buy cheap essays</a> how to write title of a song in an essay
10. Repeat

But it's still worth repeating the material covered. Not to cram, but to repeat - to refresh your memory. As they say: "Repetition is the mother of learning." Repeat the information received. Every day, for example, 5 days. Repeat what you learned. This information will be deposited in long-term memory, and you can easily get it from there.

11. Don't be lazy

You will never be able to achieve something and remember something if you are lazy. Laziness is the rust of the mind. Don't let it take over your memory. Resist the temptation to lie idle on the couch. Take a book or turn on some relaxing music. This will force your brain to work and thus improve your memory, while you physically rest. And if you need to remember something, then quickly connect all the resources.

what to write for college essay <a href="https://essaywriterserv.net/">essay writer com</a> how to write a fellowship essay
2021-03-30 09:27 anonim
|
12 simple exercises to develop "phenomenal memory":

1. Improve the memorization process

When memorizing something, you need to think about the action, draw parallels with your life. Let's just say, the more associations you make, the more you will be able to remember what you want.

2. Try to remember yourself

There are times when you forgot your partner's phone number, or the name and patronymic of a person with whom you have an important meeting, etc. Do not rush to open your notebook just to read the necessary information. Try to remember it yourself. This information is already "on the shelf in your head", you just have to find it.

3. Create similar looks

If you need to remember something important, try to create an image in your mind that is associated with what you need to remember. It will be easier for the brain to do this.

4. Speak the information received

When you want to remember important information, try retelling it, or explaining it to another person. The memorization process becomes better when you speak the information received.

5. Do arithmetic
how to write dialogue in an essay <a href="https://essaywriterserv.net/">www.essaywriterserv.net</a> how to write a scholarship essay examples

When you have nothing to keep yourself busy in boring and long lines, try to start solving very simple arithmetic problems in your head. For example, multiply the number of legs of those red chairs by the number of flowerpots on the windowsill. Or count the sum of numbers on the numbers of passing cars ... This practice is actually an excellent memory training. 6. Remember what happened to you during the day

Before going to bed, after the day, scroll through all its details in your head. What did you do throughout the day, what would you do to improve some points. Think back to your day. From now until awakening. Believe me, this is not an easy task! Ask the question: "Which decision I made today was the most effective?"

7. Read more books!

What could be better than spending your free time reading an interesting and useful book? When reading a book, the brain strains to memorize the details. In addition, you turn on your imagination and begin to visualize everything that you read about. This is great for training the brain.

8. Study verses and text passages

At school we were asked to learn poems for a reason. Memorizing rhymed verses and non-rhymed passages of text helps develop memory. So learn the verses. Try to choose those pieces that you really like 9. Don't try to cram!

Remember how at school / university we could memorize the information we needed to get a good grade? Forget about it. This technique does not help develop memory. Dull cramming is ineffective. It tires the brain, and it quickly stops responding to the information it receives. Better ponder on what you read. You need to not only learn, but also understand what you are reading.
how to write comparison essay <a href="https://essaywriterserv.net/">essay for college</a> how to write a essay introduction paragraph
10. Repeat

But it's still worth repeating the material covered. Not to cram, but to repeat - to refresh your memory. As they say: "Repetition is the mother of learning." Repeat the information received. Every day, for example, 5 days. Repeat what you learned. This information will be deposited in long-term memory, and you can easily get it from there.

11. Don't be lazy

You will never be able to achieve something and remember something if you are lazy. Laziness is the rust of the mind. Don't let it take over your memory. Resist the temptation to lie idle on the couch. Take a book or turn on some relaxing music. This will force your brain to work and thus improve your memory, while you physically rest. And if you need to remember something, then quickly connect all the resources.

how to write a community service essay <a href="https://essaywriterserv.net/">write a essay about yourself</a> how to write essay structure
2021-03-30 10:51 anonim
|
12 simple exercises to develop "phenomenal memory":

1. Improve the memorization process

When memorizing something, you need to think about the action, draw parallels with your life. Let's just say, the more associations you make, the more you will be able to remember what you want.

2. Try to remember yourself

There are times when you forgot your partner's phone number, or the name and patronymic of a person with whom you have an important meeting, etc. Do not rush to open your notebook just to read the necessary information. Try to remember it yourself. This information is already "on the shelf in your head", you just have to find it.

3. Create similar looks

If you need to remember something important, try to create an image in your mind that is associated with what you need to remember. It will be easier for the brain to do this.

4. Speak the information received

When you want to remember important information, try retelling it, or explaining it to another person. The memorization process becomes better when you speak the information received.

5. Do arithmetic
proper way to write an essay <a href="https://essaywriterserv.net/">rewrite my essay</a> how to write an essay for a scholarship format

When you have nothing to keep yourself busy in boring and long lines, try to start solving very simple arithmetic problems in your head. For example, multiply the number of legs of those red chairs by the number of flowerpots on the windowsill. Or count the sum of numbers on the numbers of passing cars ... This practice is actually an excellent memory training. 6. Remember what happened to you during the day

Before going to bed, after the day, scroll through all its details in your head. What did you do throughout the day, what would you do to improve some points. Think back to your day. From now until awakening. Believe me, this is not an easy task! Ask the question: "Which decision I made today was the most effective?"

7. Read more books!

What could be better than spending your free time reading an interesting and useful book? When reading a book, the brain strains to memorize the details. In addition, you turn on your imagination and begin to visualize everything that you read about. This is great for training the brain.

8. Study verses and text passages

At school we were asked to learn poems for a reason. Memorizing rhymed verses and non-rhymed passages of text helps develop memory. So learn the verses. Try to choose those pieces that you really like 9. Don't try to cram!

Remember how at school / university we could memorize the information we needed to get a good grade? Forget about it. This technique does not help develop memory. Dull cramming is ineffective. It tires the brain, and it quickly stops responding to the information it receives. Better ponder on what you read. You need to not only learn, but also understand what you are reading.
how to write a play title in an essay <a href="https://essaywriterserv.net/">value of college education essay</a> essay to write trust fund
10. Repeat

But it's still worth repeating the material covered. Not to cram, but to repeat - to refresh your memory. As they say: "Repetition is the mother of learning." Repeat the information received. Every day, for example, 5 days. Repeat what you learned. This information will be deposited in long-term memory, and you can easily get it from there.

11. Don't be lazy

You will never be able to achieve something and remember something if you are lazy. Laziness is the rust of the mind. Don't let it take over your memory. Resist the temptation to lie idle on the couch. Take a book or turn on some relaxing music. This will force your brain to work and thus improve your memory, while you physically rest. And if you need to remember something, then quickly connect all the resources.

how to write ccot essay <a href="https://essaywriterserv.net/">personal statement essay for college</a> how to write a 5 paragraph essay in 30 minutes
2021-03-30 17:32 anonim
|
how to write the title of an article in an essay <a href="https://essaywriterserv.net/">essay rewriter</a> how to write a definition essay step by step
2021-03-31 21:18 anonim
|
custom essay review service <a href="https://buyessaysfjd.com/">buy narrative essay</a> community service essay
2021-04-01 03:29 anonim
|
What is MBA education?
ace essay service <a href="https://buyessaysfjd.com/">buy extended essay online</a> essay topics on customer service
(Master of Business Administration, master of business administration) is not so much a training program as a Manager's degree (in management). Here it is important to have it, which indicates that you have the skills necessary for a middle-and senior-level Manager. To date, there is no single standard that would allow you to divide the degree of proficiency in these skills, so only the fact of having a corresponding diploma is taken into account.

The first version of such a training system began to be used in the United States in the 19th century. for many companies of that time, employees who knew the latest management methods were in demand. With

In our country, the MBA program started at the branch of the Plekhanov economic Institute. Since then, the standard has taken root and MBA education is now considered one of the mandatory for prestigious vacancies in the economic sphere.

What is the" strength " of MBA education?
As with any other type of training for MBA education, there may be pros and cons. So among the main positive qualities can be noted.
an essay on my greatest service to my motherland <a href="https://buyessaysfjd.com/">buy custom college essays</a> professional admission essay writing service
The opportunity to gain in-depth knowledge in the field of business, from which you can get practical benefits in your daily work.
Increased chances of becoming the head of a large firm. The owners of this education are guaranteed to move up the career ladder.
Getting first-hand knowledge from world-class businessmen, and perhaps even from Nobel prize winners.
A great opportunity to get a job abroad or in our country, but in an international organization.
In General, MBA education increases the qualification level of a specialist, making it more competitive in the job market. But there are a few disadvantages.

For example, today young professionals who have just graduated from UNIVERSITY are trying to get an MBA right away. The motivation is obvious — they want to immediately get a job in a prestigious company for a high-paying position with a career growth forecast. And there may be no time to get additional education in the future. But here's the problem — the MBA provides practical knowledge in contrast to the usual "HSE", which would be better compared with your own business experience. This is the only way to highlight in the entire course the knowledge that will really help in a particular situation. And without experience, everything becomes nothing more than an interesting educational program.

The second disadvantage is again hidden in the lack of practical experience for most of the owners of MBA crusts. It is difficult for them to apply the existing knowledge in practice, they do it with caution, sometimes being late with responsible decisions. To work successfully in a rapidly changing market, you need to work for many years to develop the skills to solve complex problems on the fly.
essay writing service from us <a href="https://buyessaysfjd.com/">students buy essays</a> law school admissions essay service yale